Youth-Adult Commitments Desk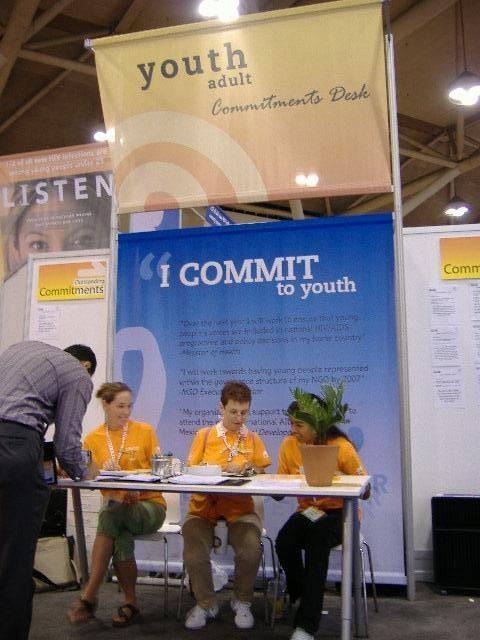 TIME TO DELIVER ON COMMITMENTS MADE TO YOUTH!

During presentations, speeches, in conversation, and while networking encourage AIDS 2006 delegates to record commitments that impact youth at the Youth-Adult Commitments Desk at the Youth Pavilion in the Global Village from August 13-15.

The Youth-Adult Commitments Desk will provide adult conference participants an opportunity to articulate how they will work in partnership with youth to improve the situation of youth-focused HIV/AIDS programmes, policies, etc. Commitments made will be tied to outcomes and will be time specific. These commitments will be followed up post-conference via existing global youth networks.
---


Thursday August 17-
Out of the 26 commitments made by Adults today, we're highlighting a few great examples:

"I am working to ensure that the rights of children and young people who are affected by and/or living with HIV/AIDS are protected, and to ensure that children and young people continue to play an ever greater role in influencing national and international policies and programs aimed at fighting HIV/AIDS and its impacts" - The Honorable Josee Verner, Minister of International Cooperation and Minister for La Francophonie and Official Languages

"I commit to bringing 13 African young women to the 17th IAC in Mexico City in 2008 in honour of the '13' campaign" - Stephen Lewis, UN Envoy Stephen Lewis Foundation

"I will involve youth in the review of the Federal Initiative to address HIV/AIDS in Canada over the next year" – Tony Clement, Minister of Health for Canada

"I commit to working to have youth to more fully incorporated into the planning and participation of the international conferences by Mexico 2008" - Helene Gayle, President of CARE USA and President of IAS

"I commit to allocate WHO resources and priorities to make information and knowledge available to young people, including young people living with HIV/AIDS, and making health service youth friendly" - Anders Nordstrom, Acting Director General of WHO (Switzerland)

"I commit to making issues of HIV/AIDS an important priority for my campaign and for my government if I am elected" - Bob Rae, Candidate for the Liberal Party of Canada

"I commit to support and create a youth-focused forum for HIV/AIDS in the US (in partnership with other national organizations). I will also create at least one youth-focused and youth-led HIV intervention within the next 2 years" - Frank Beadle de Palomo, Sr. Vice President for the Academy for Educational Development (USA)

"I commit to developing a stronger partnership with organizations like Planned Parenthood to advocate for comprehensive sexuality and condoms in schools by the end of 2006" – Shawn Lang, Director of Public Policy at Connecticut AIDS Resource Coalition (USA)

"I will make active efforts to integrate the involvement of young people in EDUCAIDS, the UNESCO led Global Initiative on Education and HIV/AIDS by October 2006" – Mark Richmond, UNESCO Global Coordinator for HIV/AIDS

"I commit to engage with youth networks to dialogue on youth perspectives in policy and partnerships where Norway participates. I will also raise the question of youth participation in decision-making in policy dialogue with national leaders by November 2006" – Sigrun Mogedal, HIV/AIDS Ambassador for Ministry of Foreign Affairs (Norway)

"I will support the development of over 100 young people to be informed and educated in HIV/AIDS prevention by August 2007. I also commit to informing my church organization how they can join me in supporting HIV/AIDS prevention and education programs in 7 countries by August 2007" – Reverend Samuel Nixon, LOTT Carey International (USA)

"I commit to sending at least 2 youth to the next international AIDS Conference in Mexico and hosting 4 youth directed events in the 4 communities we serve during the Canadian HIV/AIDS awareness week and World AIDS Day" – Andrea Watson, Executive Director of HIV West Yellowhead (Canada)

"To support young people activities and monitoring and evaluation in at least 2 country national programs by the end of 2007" – Cyril Pervilhac, M & E Scientist, WHO (Switzerland)

"I will work with at least 5 schools and institutions in letting them know about HIV/AIDS by the end of this year" – George Tamale, Coordinator of the Federation of Uganda Employers

"I will tell my fellow peers about myths and the testing centers available within the community; furthermore to survive to bring a strong component of AIDS awareness to the school's global conference – to inspire and motivate by next June" – Rui Li, Student (Canada)

"I will establish JICA's cooperation guideline for adolescent reproductive health by December 2006" – Naoko Ueda, Infectious Disease Control Team, JICA (Japan)


---


Wednesday August 16-
Out of the 60 commitments made by Adults today, we're highlighting a few great examples:

"I commit to ensuring that the UN system will get its act together and respond cohesively to safeguard the rights of young people. I will promote inclusion of young people at the decision-making table in issues that affect their lives. I will also start a youth internship program at UNAIDS" - Dr. Peter Piot, Executive Director and Under-Secretary General of UNAIDS

"Any long-term commitment in the global battle against HIV/AIDS must enlist youth as key partners. We will fail if we do not recognize this reality" – Mark Wainberg, Co-Chair of the XVI International AIDS Conference

"I commit to issuing with the support of young people, a youth friendly version of 'steady Ready Go' in order to turn it into a versatile tool for young people and their programs" – Joy Phumaphi, Assistant Director General of WHO

"I commit to increasing MTVs commitment to individual young people through the Staying Alive Awards and expand MTVs HIV prevention programming immediately" – Tim Thomas, Executive Director, MTVs Staying Alive Foundation (USA)

"I commit to developing and driving campaigns to bring about real and lasting change for children affected by HIV globally with young people in Northern Ireland. We will also have 50 new young campaign activists by World AIDS Day 2006" – Christine Patterson, Global Dimension Coordinate of Save the Children (Northern Ireland)

"I will continue striving to find out what works and what doesn't work in HIV prevention, treatment and care among young people. I will also advocate for the importance of much more funding and attention to youth HIV programs till I can" – Dr. David Ross, London School of Hygiene and Tropical Medicine (UK)

"I will invest all my efforts in HIV prevention among young people through advocacy, building capacity in the countries and support networking youth empowerment by 2007" – Matilde Maddaleno, Regional Advisor Adolescent Health, WHO (USA)

"I will include a full description of the unique Youth Pavilion space in the Global Village, and to work with Alex and Len to include youth specific recommendations in the report to GSK Positive Action for AIDS 2008 Mexico City by December 31st, 2006" - Chad Leaver – Monitoring and Evaluation Coordinator for the Local Host (Canada)

"I will keep a focus on vulnerable youth in our regional work" – Mariam Claeson, Coordinator of South Asia, World Bank

"Since I am already committed, I REITERATE devoting at least 50% of my working time to youth, with youth and for youth for as long as I can" – Rafael Mazin, Regional Advisor on HIV/STI Prevention, WHO (USA)

"I will ensure that orphans of AIDS and other vulnerable children have a chance to attend trips and conferences that pertain to their welfare, exposure and matters concerning HIV/AIDS. I will also make sure that vulnerable groups like young adults are empowered to give their inputs on vulnerable matters on abuse and violence by next year" – Lela Samuels, Executive Director of Liberia Orphans of AIDS Foundation

"I commit to inviting a community advocacy and education group to speak to my elementary students on the topic of trans/homophobia and gender discrimination... even if my administration gives me a hard time by June 2007!" – Jennifer Hompoth, Teacher (Canada)

"I commit to taking actions forward on disadvantaged youth for prevention of HIV and to advance research in this over the next 2 years" – Elizabeth Mason, Director Child & Adolescent Health, WHO (Switzerland)

"I commit to educating all youth I come into contact with about HIV/AIDS and other issues that pervade/perpetuate the illness across the world. I also commit to empowering youth by starting a mentor program for youth in my local zone" – Jamila Taylor, Global Policy Coordinator at the AIDS Institute (USA)

"I commit to advocating for youth empowerment and equitable participation in our work at TPH. I will also work toward global equity for access to health determinants by youth and their families" – Josephine Wong, Health Promotion Consultant for Toronto Public Health (Canada)

"I will create a youth driven peer education group for local schools and will also work to increasing youth actively in national HIV awareness events by youth from Prince Edward Island" – Angela MacKinnon, Program Coordinator of AIDS PEI (Canada)


---


Tuesday August 15-
Out of the 133 commitments made by Adults today, we're highlighting a few great examples:

"I commit $500 million to the Global Fund" - Melinda & Bill Gates (USA)

"I will learn more about HIV/AIDS and help those agencies like Toronto Youth Force to eradicate this threat to world health now!" – Armand LaBarge, Chief of York Regional Police (Canada)

"I commit to being an excellent loving dad to my adolescent son and daughter and to love my wife. I will also work to ensure that youth participation is real and 'doubles' in Mexico by 2008" – Steven Kraus, Chief Global AIDS Coordinator, UNFPA (USA)

"I will scale up HIV prevention "with" most-at-risk young people" – Rick Olsen, Project Officer – HIV & Young people at UNICEF (USA)

"I will send 200 young Canadian volunteers to developing countries to work with local youth on HIV/AIDS awareness raising and youth empowerment sessions by next year" – David Danylewich, Executive Director of Youth Challenge International (Canada)

"I commit to including youth with disabilities in Africa in my HIV outreach efforts by December 2009" – Gouwah Samuels, Project Manager of African Decade for Persons with Disabilities (South Africa)

"I will bring the HIV/AIDS Warriors group to the school in Exshaw and also commit to having a youth World AIDS Day event in Canmore on December 1st 2006" – Nicole Neve, Program Manager of AIDS Bow Valley (Canada)

"I commit to encouraging and assisting at least 2 youth to attend next International Conference in Mexico 2008" – Christopher Esmurdoc, Director of Clinical Services at the AIDS Taskforce of Greater Cleveland (USA)

"I commit to scale up my NGOs youth friendly services in rural areas of Nigeria to cover more at risk youths by 2008" – Gbloham Olumomale, Executive Director of CRPHD (Nigeria)

"Through my organization, I will encourage infected and newly diagnosed youth to make their voices heard and will also reach out to my colleagues and other youths across the globe by August 2007" – Martha Vibbert, Executive Director of the Children AIDS Program (USA)

"I will focus on HIV/AIDS during my service learning trip to Jamaica with 22 university students in Feb 2007" – Rosemary Sanley, Jamaica Self Help (Canada)

"I will train 300 youth peer educators and will also encourage 150 young people to get tested for HIV by August 2007" – Nasimul Hussain, Coordinator of the Ministry of Health (Guyana)

"I commit to helping youth organize and insist on sex education in their schools. I will also help organize a run to involve the community within the next year" – Maureen Clout, Director of Patrick 4 Life (Canada)

"I will ensure that young people are a focus of the World YWCA" – Maureen Bell, Treasurer of World YWCA (Canada)


---


Monday August 14-
Out of the 78 commitments made by Adults today, we're highlighting a few great examples:

"We commit $500 Million to the Global Fund" - Bill and Melinda Gates, Gates Foundation (USA)

"I commit to contacting US universities to see whether they support actively undergrad and graduate students from developing countries and especially positive youth. I also commit to including young people as much as possible in work with Realizing Rights" - Mary Robinson, Former UN High Commissioner for Human Rights

"I will increase funding to support participation of youth and young adults from around the world in the next International AIDS conference in Mexico. I also commit to involving youth and young adults in the HIV/AIDS strategy for the ELCA by the summer of 2008" – Mark Hanson from the Evangelical Lutheran Church in America

"By October 2006, I will develop the paper for WHO on needs of young people living with HIV/AIDS for treatment, care and support in constant consultation and with positive youth and youth advocates" – Gracia Violeta Ross Quiroga, ICW/Committee Programme Co-Chair

"I will work with positive youth organizations to try to increase access to voluntary testing" – Steven Tierwey, Deputy Executive Director of San Francisco AIDS Foundation (USA)

"I commit to improving the lives of young people living with HIV/AIDS in Western Ukraine by opening a community center and summer camps for young PLWHA by August 2006" – Viktor Vladimirovich Virlan, Regional Representative from All Ukrainian Network of PLWHAS (Ukraine)

"I will engage more youth as peer mentors to assist with terminating juvenile prostitution by December 2007" – Lea Greenwood, Coordinator of the Sexual Exploitation Education and Awareness Coalition of Toronto (Canada)

"I commit to empower youth directly in the decision-making process at City Hall, including in preparation for Mexico City AIDS 2008" – David Miller, Mayor for City of Toronto (Canada)

"I commit to train more than 5 young traditional healers in clinics and promote traditional understanding and management of body imbalances like HIV/AIDS in the next five months" – Umar Ndiwalana, Field Coordinator for PROMETRA (Uganda)

"I commit to educate high school youth in my community [Newmarket, Ontario] through community events and leading them into fundraising and awareness projects by next year" – Rima Dib, Independent Outreach Work (Canada)

"Over the next year I will work to ensure that young people's voices are included in the Churches National HIV/AIDS program and policy, which is currently in the process of being prepared" – Tadele Mamo, National HIV/AIDS Coordinator for the Evangelical Churches Fellowship (Ethiopia)

"I commit to include HIV/AIDS as one of the areas of debate at the National Youth Parliament for PNG in December 2006. I will also scale up efforts in my electorate to provide economic empowerment of youth and rights to informed choice" – Carol Anne Kidu, Minister for Community Development, National Parliament of Papua New Guinea

"I commit to providing a forum where children and youth in our program can present their views on programming. I will also contact an agency that works with behaviorally infected youth to determine how we can collaborate and work together" – Sarai Padilla, Director, Program for Children and families at St. Luke's Roosevelt Hospital Center (USA)

"I commit to pushing the New York City Department of Education to fully implement a comprehensive sexual health and HIV education in all schools. I will also organize/educate and empower young people to play a more prominent role in HIV prevention/education by 2007" – Kacie Winsor, Director of State and Local Affairs of the New York AIDS Coalition (USA)


---


Sunday August 13th -
Out of the 47 commitments made by Adults today, we're highlighting a few great examples:

"For AIDS 2008 in Mexico, I commit to double the number of young people" – The Honorable Dr. Frenk, Minister of Health (Mexico)

"By November 2006, I will train more than 45 young people to be peer educators on HIV/AIDS" - Momcilo Tantic, a member of the Yugoslav Youth Association against AIDS (Serbia)

"I commit to funding at least 5 young people to participate in the IBFAN Africa Regional meeting in 2007. I will also strengthen a youth project that has already started by mobilizing more funding for it" - Pauline Kisanga, the Regional Coordinator for Africa of the International Baby Food Network (IBFAN) (Swaziland)

"I commit to educate youth by holding lectures about HIV/AIDS and try to engage more youth volunteers by the end of 2006" – Igor Totic, a peer educator and trainer from Youth of Jazas (Serbia)

"I commit to rededicate my focus (roles and stress) to youth related activities especially in prevention and capacity building on HIV issues including peer education by the end of Dec 2007" – Edwin Wanjiku, a counselor at the SOS Children's Villages (Kenya)

"I will include children and young people in the planning and decision-making processes for future programs. I also commit to setting up a children's council to share their views and experiences of life on the streets and assist in getting their word heard at policy level meetings by the end of 2007" – Peter Kent, Program Manager of the Consortium for street children (United Kingdom)

"I will ensure that youth are part of the decision making process for my organizational policies and will create a space for young people in an internship program by September 2006" – Allan Ragi, Executive Director of the Kenya AIDS NGOs Consortium (Kenya)

"I will expand the 'Life Skills Education' program within the out of school vulnerable youth in Peshawar. I plan to raise funds to enable three youth to attend regional and international conferences in the next three years. I will also provide internship opportunities to students interested in the HIV/AIDS field" – Shahzad Bashir, Program Manager at the Orphans Refugee and AID International (Pakistan)

"I will work to bring sexual and reproductive health education to migration adolescents in schools in China and will organize a series of trainings for more volunteers by December 2006" – Lia Wenqin, Core Group Member of the China Youth Network (China)

"I will involve youth in the design of my current HIV research study and also in the analysis of the data generated from the study by January 2007" – Laron Nelson, PhD student and Research Fellow at University of Rochester (USA)